Gareth Williams has taken over as the new Scarlets defence coach.
Here are his thoughts on the role and the challenge ahead.
How pleased are you to be back with the Scarlets?
GW: "It's exciting to be a part of the Scarlets future. There's been a natural association throughout my career and there has been a natural crossover of work with the Scarlets in my roles across the 7s, 20s and senior squad, as well as being used regularly with the transition players over the last few years.
"But being able to work with Dwayne, Ben and Emyr as coaches, as well as the wider management team, towards the future is hugely exciting."
How do you reflect on your time with the Welsh Rugby Union 7s, U20s and senior side?
GW: "A real challenging, but comprehensive, coach development path that has moved me along at a technical, tactical and psychological level. It has stretched me to operate with players across the spectrum of Welsh rugby. Balancing between long-term player development and key performance targets has been brilliant.
"It's great to look back at certain landmark performances, but I take a great deal of enjoyment from the consistent focus towards the coaching of individual players and teams to benefit the players at that time, and towards their futures. It is that focus that opened varying opportunities, including my first involvement with the national squad under Warren Gatland and his coaching team in 2017.
"The last 18 months have been brilliant, operating at that level more permanently, and getting to coach under the expectation of senior international rugby. I feel that expectation has given me the impetus to test myself at another spectrum of the professional game here in Wales. Another part of my continuous development as a coach."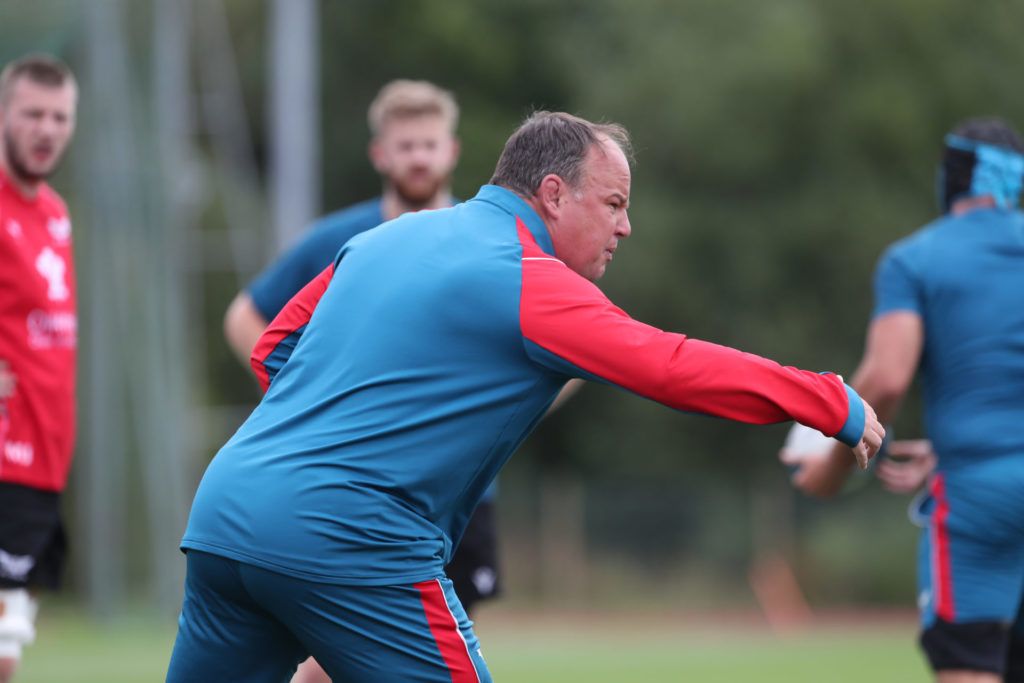 Is it a new challenge taking on the role of defence coach?
GW: "I've been fortunate in all my roles, where it has been necessary to immerse myself in all aspects of the coaching process. When I started with the 7s, I was lucky to be Paul John's assistantcCoach. We would discuss and test our attack, defence, contact area principles on a daily basis. After Paul's time, I spent time coaching the 7s alone, before Richie Pugh joined me as assistant coach. Therefore, I was gaining huge experience across the whole elements of putting teams together with attacking and defensive principles. Gaining understanding of how attack and defence are intertwined and no elements of the game can be taken in isolation.
"As U20s head coach, I got to practice these principles but with an extended coaching team and trying to ensure the technical coaches dovetailed as effectively as possible. One of my partnerships at U20s was with Gethin Jenkins, who I have been lucky to continue working with in the senior squad. Therefore, it is a new challenge regarding job title, but one I have been exposed to a lot across my career.
"The beauty of my role with the senior Wales squad in the last 18 months is how the contact area is immersed across the whole game. My work has always been in collaboration with the other coaches, supporting Gethin's excellent work in the defensive element of the game, Neil Jenkins's work around our kicking strategies, and with Steve Jones, in maximising our retention principles in his attack.
"I feel I have a rounded progression to this point in my career, and am excited to be working towards future successes for the Scarlets and for the players I'll be lucky to work with."
Are you excited to be working with your old school mate Dwayne?
GW: "Of course. I weighed a lot up after Dwayne's approach to the union for my services. Dwayne's enthusiasm was infectious, but the quality of coaching conversations around session planning, tactical and technical approaches, and team and leadership development was hugely stimulating. Factor in the respect I have for Dwayne in what he's achieved in his career, and growing up together, and it was an opportunity I needed to take."
What are your thoughts on the season ahead?
GW: "It can't come quick enough. I love coaching and competing. We have an exciting pre-season programme in place, but I can't wait to get into the thick of the action and start taking the path through towards a successful URC and European programme, with our boys excelling at international level as well!"