If you are attending Sunday's EPCR Challenge Cup clash with Aviron Bayonnais at Parc y Scarlets (15:15) here's everything you need to know.
Can I buy tickets on the day?
Yes you can. The ticket office is open from 9.00am until half-time.
Is the club shop open?
Yes, the shop is open from 9.00am until kick-off. Scarlets players Samson Lee and Jac Price will be in the shop at 2.15pm for photos and autographs with fans. The shop will be closed after the match.
Where can I park?
Public parking is in Car Park B on the Trostre Park side. Cost is £5 per car on the gate. The car park gates open at 11.30am.
Do you accept cash in the stadium?
Yes we do, but we will not be accepting the old paper £50 and £20 notes.
When do the stadium gates open?
Hospitality can gain entry at 1.15pm, the turnstiles are open to the public at 2.15pm.
Is there a shuttle bus service?
Yes, there is as shuttle bus in operation for this game
Here are the details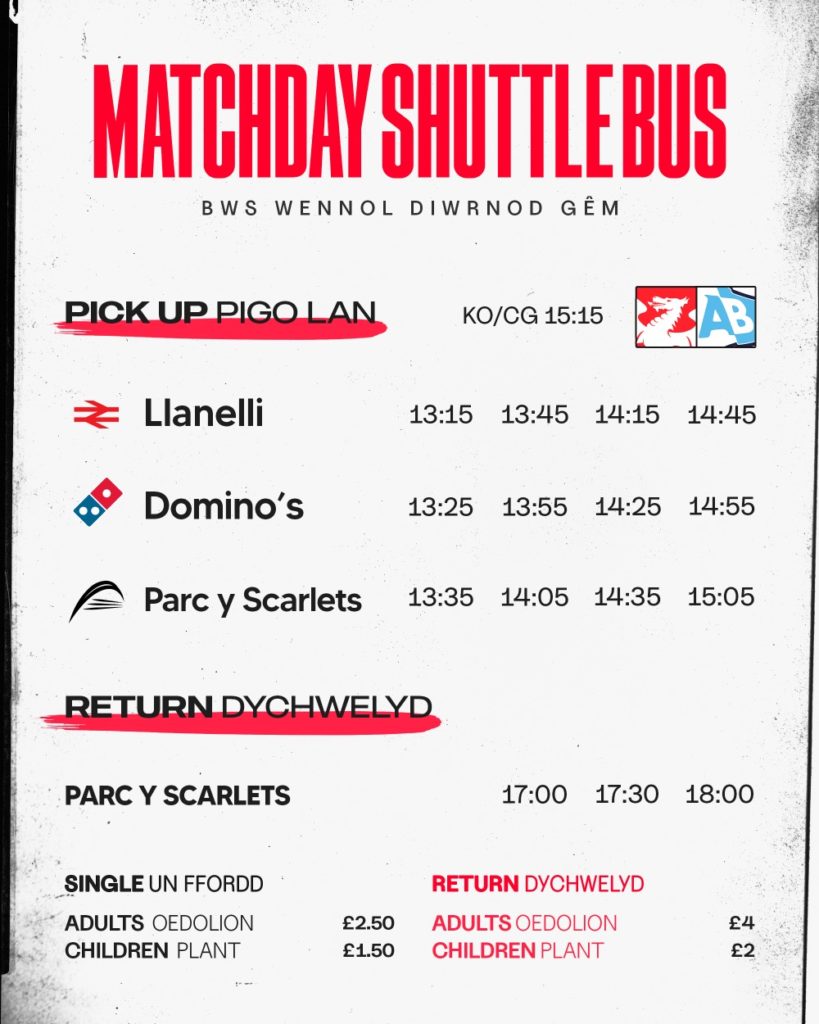 Is the Supporters Village open?
Yes, our Supporters Village will be open to the public from 1.15pm. There will be a festive theme with the Scarlets choir singing carols, a bar and plenty of food stalls including Cwmfarm, Crazie Crepes, waffles, coffee, milkshakes and sweets. There will also be tag rugby and some fun for the kids. Scarlets players Callum Williams and Wyn Jones will be in the barn from 1.45pm to meet fans and sign autographs. THE BARN WILL BE CLOSED POST-MATCH
What about the East Stand Bar?
The East Stand Bar (in the East Stand) will be open pre-match at 1.15pm. There will be live music from 'The River' after the match.
Will there be tag rugby at half-time?
Yes, please show your support for Trimsaran U7s, & U9s, Llandeilo U7s, Milford Haven U7s & U8s, Aberystwyth U10s, Hendy U10/11s and Hendy U13s, who will be our flag bearers.