Pieter Scholtz is relishing his first Scarlets start in tomorrow's Guinness PRO14 clash with Cardiff Blues (live on S4C & Premier Sports).
Since his arrival from South Africa, the 20-stone tight-head has come off the bench in the wins over the Ospreys and Dragons.
But just getting here has been a battle for the 26-year-old.
In recent months, Scholtz has:
• overcome playing for a team that hardly won a game
• been left without unpaid wages after the Southern Kings were bankrupted
• Come through a nine-month period without playing a single match
• Spent two weeks in quarantine in a Llanelli hotel
• Been divided from his fiancé back in Port Elizabeth after all flights from the country were banned during the last round of pandemic measures
When the Scarlets suffered front-row injuries in the autumn, head coach Glenn Delaney was quick to move for Scholtz, a tight-head with a reputation for old school, rock solid South African scrummaging.
He was quick to join, too, after three years with the Southern Kings – the South African, Port-Elizabeth-based side that struggled in the Guinness Pro14 and won just four games in three seasons.
"The problem for the Southern Kings was that lots of good players got drafted by the other provinces," says Scholtz.
"Losing became a bit of a habit. It became normalized.
"In the final year, we had a proper development of young players, but the whole Covid thing started and everyone had to leave because there was no money there."
The Kings were reduced to paupers by last September and went into liquidation, leaving Scholtz and his team-mates out of pocket.
"Four or five days before pay day, they called us all in and said, 'Sorry, boys. There's no money. You're not going to get paid any more.
"At least I had managed to save a bit, but for younger guys who hadn't played much, they were going month-to-month and then told there was nothing."
What made it harder was that Covid-19 had meant Scholtz, who hails from the Northern Cape, had not played a game for nine months.
"It was mentally tough after they told me they weren't going to pay me anymore. The last game I had played was in March – so there was no outlet on the pitch, either."
With no rugby and no money, plus a recent engagement to get married, Scholtz did not need to be asked twice when the Scarlets got in touch.
"Some of the Southern Kings guys went to play rugby in France, some still haven't been fixed up, but I just got lucky.
"The connection was made from the Scarlets through my agent and I told him, 'Where's the contract? I'll sign.'
"I knew that the Scarlets were the main team in Wales and when Wales went on that 14-match unbeaten run under Warren Gatland a little while ago, there were a lot of Scarlets players in that team.
"I had played at Parc y Scarlets once before, I knew it was a good venue for rugby, so I was excited about joining. I like Wales, it's very friendly like the part of South Africa I'm from and Llanelli is a nice, slow-paced, chilled kind of town."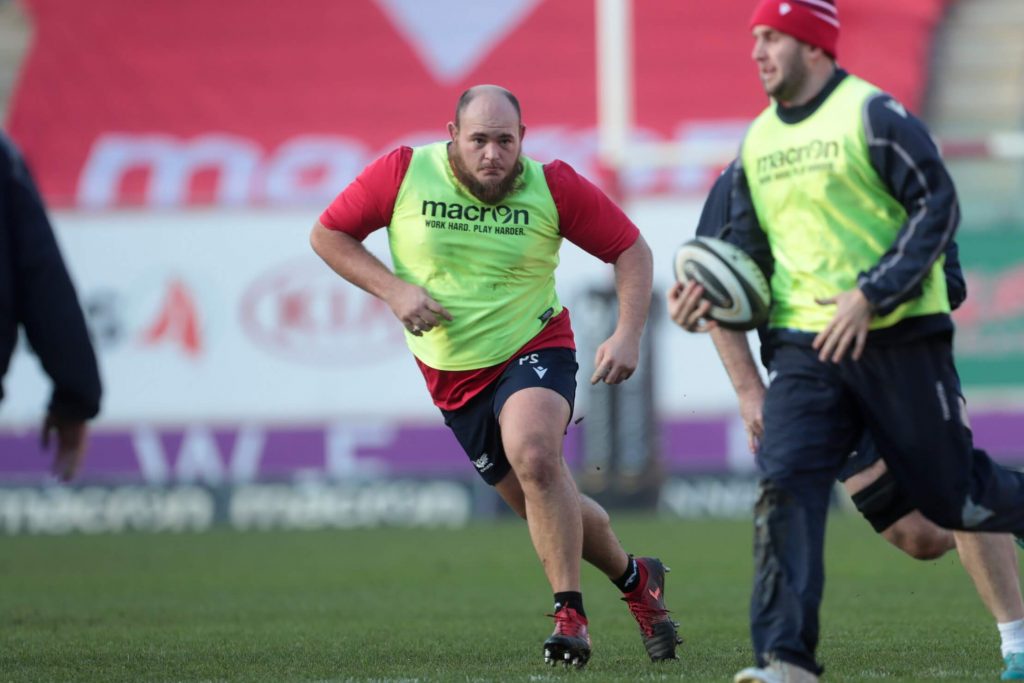 Before he could play, though, there were 14 days of quarantine isolation in Llanelli's Diplomat Hotel before he could meet his new teammates.
"I was on my own, all alone, but luckily I had Netflix. I watched everything on their schedule.
"It was a bit frustrating because I couldn't do a lot. In a hotel room, it was difficult. But you had to follow the rules."
So far, Scholtz has played 20 minutes against the Ospreys and 30 minutes against the Dragons – what his coach Delaney calls "bite-size" portions for a man who had been starved of rugby.
Delaney says: "Pieter does the basics well, loves a scrum, loves a maul, and cleans rucks out pretty effectively.
"He's a really good lad who is fitting in wonderfully well. He's a renowned scrummager and we want to make sure we use that to our advantage.
"It's about giving him time to get into things, because he hadn't played for nearly nine months by the time he arrived. It's bite-size chunks with Pieter, but he's fitting in really well."
The player himself is looking forward to an increasing influence with his new team, even though he may have to wait a while before playing in front of Scarlets fans.
"I would like to stay beyond this season and get a longer contract. It was always my dream to play a proper spell with a team from overseas.
"The Scarlets have some of the best rugby players in the world here and I think we can definitely win things. Ken Owens is one of the best hookers in the world, so I'm looking forward to playing with him."
As for the Blues and the upheaval caused by the departure this week of head coach John Mulvihill, Scholtz is happy to prove he's got nimble footwork to match his muscle.
"I don't know what has happened at the Blues, but we can't think about that. We have to concentrate on ourselves.
"I just feel as though I have made a mental breakthrough by playing rugby again and I can't wait to get out there."
S4C – Saturday, 19.15: Clwb Rygbi – Cardiff Blues v Scarlets
Live coverage of the Guinness PRO14 rugby match between Cardiff Blues and Scarlets, from Cardiff City Stadium. English commentary available. K/O 7.35.