The greats of Welsh rugby were at Parc y Scarlets to bid an emotional farewell to the legendary Phil Bennett, who passed away earlier this month at the age of 73.
In an uplifting service of remembrance, Benny's former captain Delme Thomas delivered a heartfelt eulogy that prompted a spontaneous round of applause and standing ovation from the thousands assembled in the South Stand of the stadium.
Twelve of 'Benny's' team-mates that featured in the squad that beat the All Blacks on that memorable afternoon at Stradey in 1972 formed a Guard of Honour that also included Scarlets' British & Irish Lions Ieuan Evans, Matthew Rees, Dafydd James and Robin McBryde as well as current Scarlets stars – Jonathan Davies, Ken Owens, Leigh Halfpenny, Scott Williams, Samson Lee among them – and head coach Dwayne Peel.
Former England and Lions prop Fran Cotton, Wales and Lions great Gerald Davies and Phil's fabled Wales half-back partner Gareth Edwards also lined up on the pitch along with the club's Felinfoel connection as the pallbearers brought in the coffin onto the Parc y Scarlets turf.
In the stands, there was a who's who of Welsh rugby with John Taylor, Graham Price, Rupert Moon, John Davies, Jonathan 'Jiffy' Davies, Robert Jones, Emyr Lewis, Craig Quinnell, Stuart Davies, Brynmor Williams among many others present.
Journalist Graham Thomas, who had penned Phil's autobiography as well as ghost-writing hundreds of Benny's newspaper columns delivered the first eulogy before the great Delme Thomas – who was one of the bearers alongside former Scarlets Derek Quinnell and Wynford Thomas – spoke about his friend, words that resonated across the ground.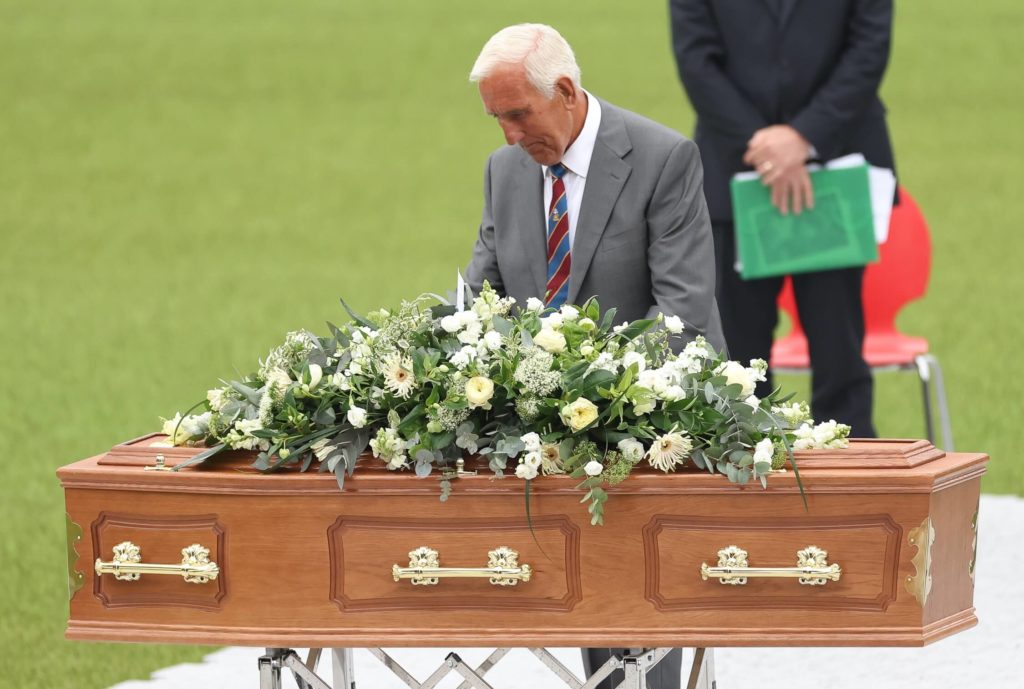 "It is very hard to stand here and explain how I feel about this little man," said the lock forward, now 79, who famously led Llanelli to that win over New Zealand 50 years ago.
"What can you say about the greatest player I've ever seen play the game?
"That's a big thing to say because I've played with some great players – a lot of them are sat in the stands today – but Phil was something special, a great gentleman and a great rugby player.
"Who can forget that day at Stradey Park in 1972. I was lucky enough to play in that game, and from that day forward Phil stamped his authority on Welsh rugby. I had never seen a performance like it. After that day, everyone knew who Phil Bennett was.
"A wonderful friend, 'Benny'. I am sorry, boy, to be standing here in front of you.
"I refuse to say goodbye. As a Christian, I hope we will meet again. God bless you."
To the tune of John Denver's 'Take me Home, Country Roads' the cortege left the stadium for a service at Phil's home village of Felinfoel where the crowds lined the streets to pay tribute as the funeral procession arrived at Holy Trinity Church, opposite to where a statue to Phil was recently unveiled by the community he loved so much.
"The people who turned up showed the respect that he had right across the community, not just the rugby community," said Scarlets, Wales and Lions hooker Ken Owens, the man who eclipsed Benny's record for captaining the club.
"He was a humble man from Felinfoel. You'd see him talking to people and you wouldn't know all that he'd achieved in the game and in life.
"I remember being in the lounges after Scarlets games and he would light up the room. People would congregate around him to hear his stories.
"He's going to be a huge miss to the region, the club, the town, to his family obviously and to everyone who knew him."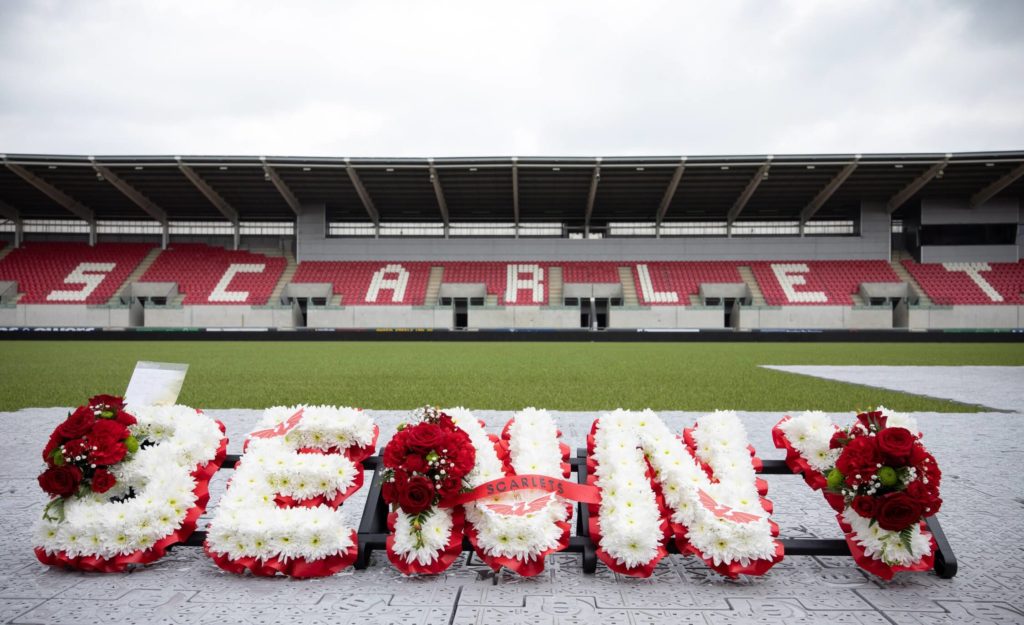 Guard of Honour: 1972 Scarlets – Derek Quinnell (bearer), Delme Thomas (bearer), Roger Davies, Roy Bergiers, Selwyn Williams, Roy Thomas, Tony Crocker, Barry Llewellyn, Delme Thomas, Tom David, Chico Hopkins, Bryan Llewellyn, Meirion Davies, Gwyn Ashby,
WRU Scarlets – Gerald Davies (WRU President) Ieuan Evans (WRU Board Member) Anthony Buchanan (WRU)
Felinfoel & Scarlets – Brian Butler, David Prenderville, Kevin Thomas, Anthony Griffiths, Roy Mathias
Scarlets – Dwayne Peel, Jonathan Davies, Ken Owens, Scott Williams, Rob Evans, James Davies, Steffan Evans, Leigh Halfpenny, Samson Lee, WillGriff John
British & Irish Lions – Sir Gareth Edwards Fran Cotton, Peter Morgan, Robin McBryde, Dafydd James, Matthew Rees