In line with Welsh Government legislation, Scarlets supporters will need to present an NHS Covid pass to attend our home match against Benetton Rugby on October 22.
Fans attending this Sunday's match against Munster WILL NOT be required to present passes, with the legislation in Wales being introduced from Monday, October 11. We are legally bound to comply and this will encompass all supporters regardless of their vaccination status.
It means that people aged 18 and over who are attending terraced stadiums such as Parc y Scarlets MUST present one of the following in order to attend:
A digital NHS COVID pass
A paper NHS COVID pass
Proof of a recent negative Lateral Flow Test.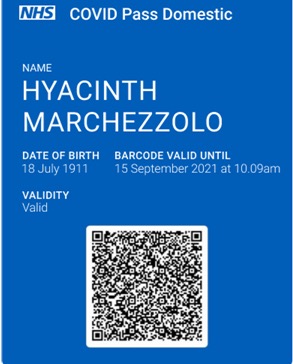 Scarlets Chief Operating Officer Phil Morgan said: "The COVID passes have been introduced as legislation to ensure those who attend mass gatherings in Wales are able to enjoy their experience in a safe environment and we are urging fans to either download the pass or apply for a paper one as soon as they can before our game against Benetton on October 22."
How do I obtain a NHS COVID pass?
Supporters who are fully vaccinated can prepare by signing up for their NHS COVID pass. For the latest information on how to obtain an NHS COVID pass click HERE
To register for the digital pass, you must have a photographic ID. If you do not, you must request a paper NHS COVID pass which can take up to 10 working days to arrive.
Paper NHS COVID Pass
Supporters who are over 18 and fully vaccinated, but do not have access to obtain a digital passport through a computer, tablet or smartphone, you can request a paper NHS COVID pass.
To request a paper NHS COVID pass, call 0300 303 5667. This service is available seven days a week, between 9am and 5pm. GPs cannot provide this service.
Supporters who need to use this service are recommended to do so as soon as possible.
Negative Lateral Flow Test results
Supporters over the age of 18 who are not fully vaccinated must have a negative Lateral Flow Test (LFT) result taken 48 hours prior to attending Parc y Scarlets.
Within the LFT kit, there are clear instructions on how to take the test and record the results. It is imperative that supporters do not bring their physical tests with them to the stadium but to record the LFT result with the NHS website.
When the result has been recorded, you will receive a text message and email from the NHS. This is deemed as a valid NHS COVID pass for entry.LFT kits are available to order online from the government website HERE. They are also available to collect from local libraries and most pharmacies.