The match-day experience is extremely important to us. We strive to make it the best it can possibly be and recognise that it's not just about the 80 minutes on the pitch. 
With crowds returning following the pandemic we identified areas that needed improving with a considerable amount of work going on behind the scenes, but we also realised that we needed a group of 'friendly faces' to assist us in delivering and promoting the Scarlets match-day experience by personifying the values of our club. From this, the Ambassadors scheme was born.
By now, our Ambassadors, in their neon pink bibs, will be familiar faces on match day! In addition to handing out flags, face painting and being on hand to answer any queries or just a welcoming 'hello', they are the 'eyes' on the ground.
The feedback we have received during our first season has exceeded expectations and has ensured that we are listening to you, our faithful supporters.
Feedback after every game is so important as it means we are able to rectify any issues quickly and also ensure that good practice is maintained.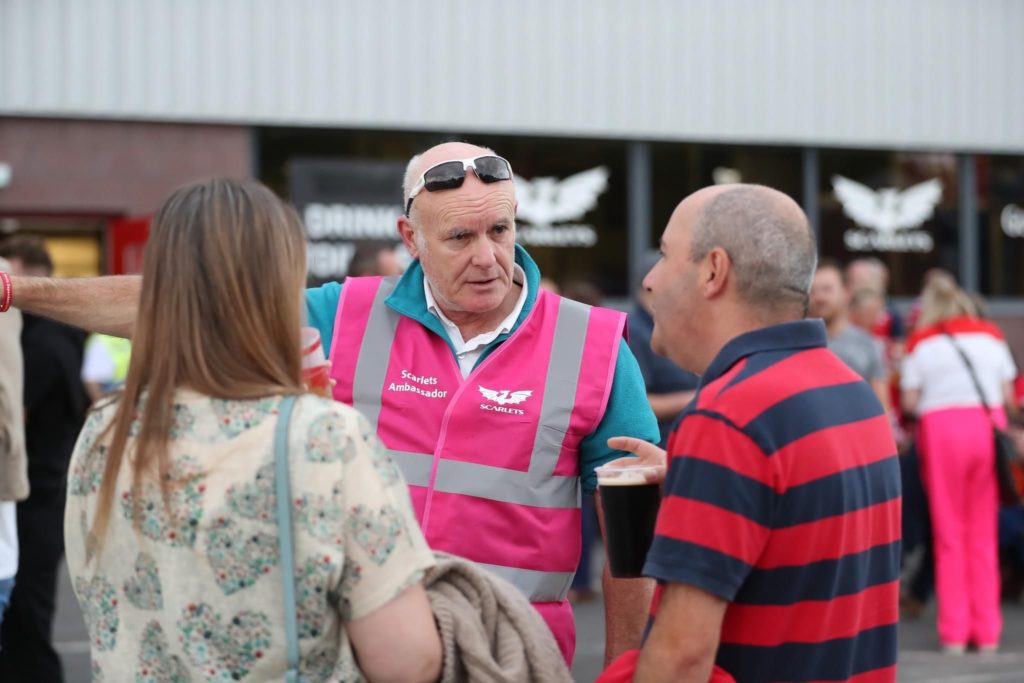 Please feel free to approach any of our ambassadors if you have any issues and be assured that this will be fed back to the Scarlets management.
During the summer, we have discussed a variety of opportunities to extend the Ambassadors scheme that will be implemented during the course of the season, including working with a group of Young Ambassadors from a local school in order to engage with the local community and to promote the Welsh language on match days.
If you would like to get involved as an Ambassador, please get in touch for further information!
This article appears in Saturday's match-day programme HERE