Ryan Elias has spoken of his pride as he prepares to make his 150th Scarlets appearance in northern Italy this weekend.
It's a remarkable milestone for a player who is still only 27 and has had to battle for the No. 2 jersey against one of Wales' greatest hookers, a player who went to the same school (Ysgol Bro Myrddin) and came through same grassroots club (Carmarthen Athletic) as him — British & Irish Lion Ken Owens
"I think 140 of them are probably off the bench," joked Elias as he chatted to the media ahead of Saturday's EPCR Challenge Cup round two clash with the Toyota Cheetahs.
"My mindset has always been that whether you're starting, coming on for a half or 20, 10 or five minutes, you've a job to do.
"It's come on fast. Time goes fast. I'm starting to enjoy it a bit more, as well, so it's good and I'm chuffed and honoured to be able to hit the 150 for the club. Hopefully, there's many more in the tank."
The Carmarthen product made his Scarlets debut in a 51-10 Anglo-Welsh Cup defeat to Saracens nine years ago, part of a fresh-faced squad that contained the likes of current team-mate Gareth Davies and fellow West Wales products, Aled Davies, Rob Evans, James Davies, Dan Thomas and Steff Hughes.
He added: "I didn't realise it (the 150) was coming up until my old man checked the website. One thing I can say is that I'm hugely proud to represent the club 150 times. Growing up I didn't think I would have made even one appearance.
"It's exciting and I'm hugely grateful for the opportunities I've had along the way and to the people who've helped me out, my family and friends. There are a lot of sacrifices over the course of an eight- or nine-year career, and not just by me. Professional sports people miss out on a lot of things and it takes its toll. So I'm hugely grateful to the club, my wife. family and everyone who's played a part to get me here."
Elias added: "I always find it difficult to reflect and fully appreciate things when I'm in the moment as a player. As I said, I'm hugely honoured to play for the Scarlets 150 times, but more than that, there's being able to come to work with boys you've grown up with — I was playing with and against a lot of the boys I'm playing with now, some of my best friends. I'd say the biggest thing in rugby is having respect from your peers.
"When I was younger I was in and out with the Scarlets U16s and U18s, didn't really play and wasn't really picked. Looking back, I think that was good because it made me the player and the professional I am, where I've always been hungry and always worked hard.
"I know nothing's given to you in the game. Those are my core values that have carried me to this point. It was a blessing not getting picked in those early days and school years, because I saw all my mates getting picked and I was gutted. You have that feeling of hurt and I guess I didn't want it again. So I've kept my head down and worked hard."
When asked about the highlight of those 149 previous matches, Elias doesn't hesitate.
"That win against Munster in 2017 to win the league," he smiles. "Ken was injured, so I started in the semis and the final. The semi was unbelievable when we went down to 14 men after a red card. That was a huge win. But the following week when we went out and backed it up against Munster — just the style of play we had. Everything was just clicking — just clicked. It just seemed easy. I was a young lad at the time, 22. I'd come in, we'd won the league. I thought: 'This rugby business is really easy.' We'd won a cup. It hasn't been quite so easy since then. But we'll get back there, I'm sure. But, yes, I'd say winning the league in 2017 was huge."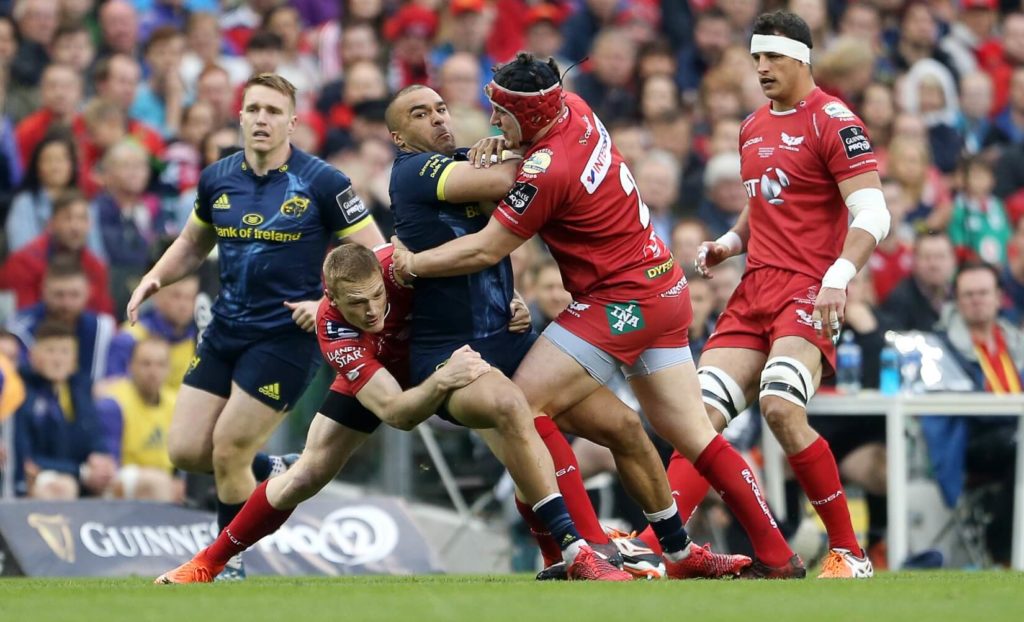 Fast forward five years and the Scarlets have an opportunity to target more silverware, this time in the second tier of European rugby, the Challenge Cup.
Elias added: None of us are happy with how things have gone up until last week with regards the season and performances. But I thought last week against Bayonne was definitely a step in the right direction. A big word we spoke about in the changing room before the game was 'hwyl', a Welsh word that translates to spirit, energy and having fun. I thought you could see that in last week's performance.
"Now it's a case of how can we repeat that this week against the Cheetahs. Hopefully, we'll keep building — keep getting to where we want to be as a club and where we think we should be as well."