Eddie James has looked to his boyhood heroes – Jonathan Davies and Scott Williams – as he bids to help Wales U20s bounce back off the canvas on Friday night.
Scarlets centre James and U20s head coach Byron Hayward have both admitted the youngsters were floored out in Cork last week by a physical Ireland team who landed some heavy blows in their 53-5 victory.
But a week on – and with a revamped line-up in which James is one of only seven players to have kept his starting place – the former Carmarthen Quins player is convinced things can be turned around quickly at Parc Eirias in a match that is live on S4C.
At 6ft 4in and well over 16st, James has been compared to Jamie Roberts, but it is Davies and Williams who he is taking his tips from at Parc y Scarlets – two vastly experienced midfield maestros he is lucky enough to share training time alongside.
"They are so professional in everything they do," says James, who is in his second season with the Scarlets.
"They make everything look easy. I spend a lot of time just watching them.
"I liked them both as a kid and it almost felt unreal at first, being on the same training field as them. But I've been able to learn so much from watching them and what they do on and off the field.
"On the field, as they play the game very differently, I can pick up things from both. What they have in common is that they are both very cool, calm and collected."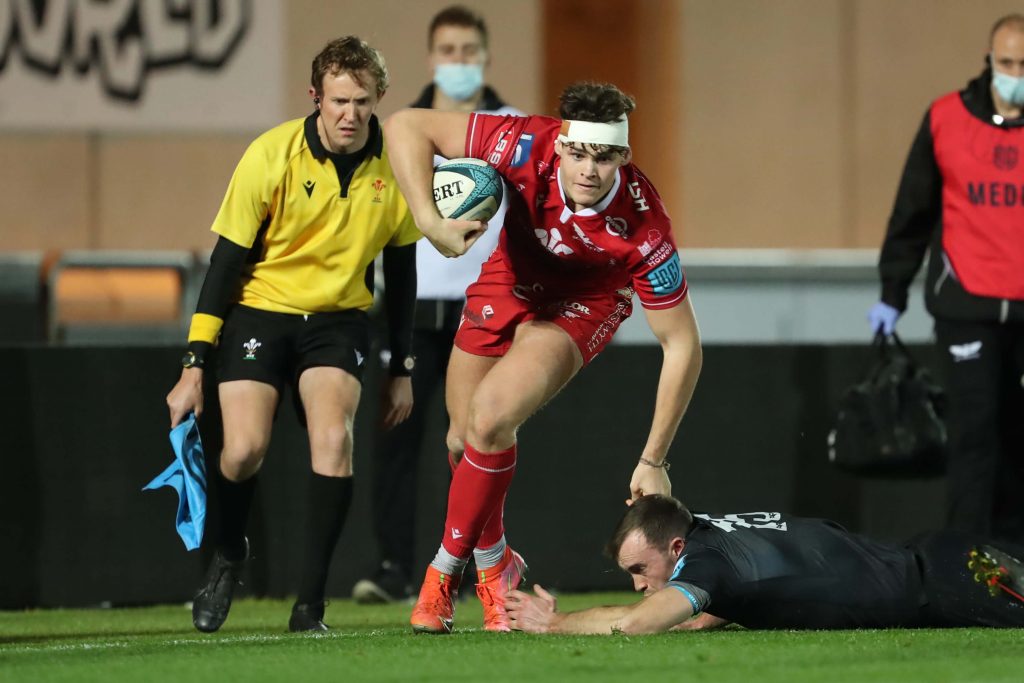 Off the field, James has picked up another good habit from the Wales pair who, between them, have earned 157 senior international caps.
When they want to remember some detail on the opposition, or a new call for their own side, they make a note of it.
In among all the high-tech gadgetry of modern rugby – GPS trackers, smart mouth guards, and nutrition apps – the good old-fashioned notepad and pencil has earned a revival.
And according to James, both Davies and Williams are firm believers
"They make notes all the time. It might just be keeping tabs on the opposition with a small detail about the way they play, but they'll make a note in their pad.
"I've tried to copy that – make a little note and then it's something to focus on and bring to the front of your mind when you're getting ready for the game."
With a big defeat already undermining their stated aim of a Grand Slam, the U20s keenly appreciate that a theory on paper is of little use in rugby if you don't carry it out.
James says he and his team-mates have been honest with themselves about last week and how far beneath expectations they had slipped.
He admits: "There were not many positives to take from that. We were confident going into the game, so it was a bit of a shock.
"We missed tackles and the penalty count just gave them easy ins. Everyone was down after the game. It was not a good atmosphere, not one I'd like to feel again.
"That's about as much as I can say about that game."
James was considered promising enough last season to have made the U20s squad, but although he was on the bench four times, he only started one game – the defeat to France.
It was enough, though, to give him a taste for international rugby for a player who made his mark in the student game playing for Coleg Sir Gar – a gateway to the Test arena for the likes of Josh Adams, Gareth Davies, Ryan Elias, Kieran Hardy, Gareth Thomas and, this weekend, Jac Morgan.
"Coleg Sir Gar was a great environment to be in," adds James.
"It was a good place to learn my rugby and Euros Evans – the director of rugby – was a big influence."
But although James puts Evans alongside Davies, Williams and Scarlets head coach Dwayne Peel as those who have shaped his career, the man he would most like to emulate against the Scots on Friday is the steamrollering Roberts.
"Jamie Roberts has always been a big favourite. He's big and tall and weighs 110kg, so my stature, or, at least on the same lines.
"I also like to carry the ball and be physical.
"I enjoy running over people, but there's more to my game than that – and much more I need to learn."
Both sides have redemption on their minds after the Scots lost 41-24 to England last week in Edinburgh.
Most recent history favours Wales, though, after their 32-24 win last season.
S4C – Friday: 7.50pm
Clwb Rygbi Rhyngwladol – Wales U20s v Scotland U20s
Live coverage from Parc Eirias of the Under 20 Six Nations Championship match between Wales and Scotland. English commentary available.